Volleyball Lessons with Leigha McQuade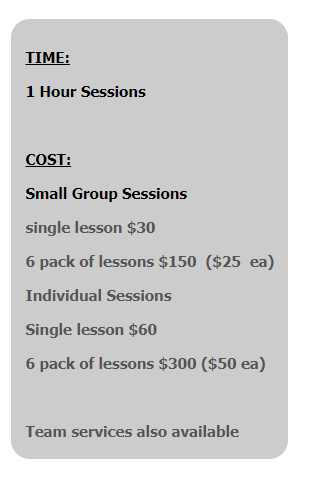 Leigha attended Marion High School and graduated in 2009.  Leigh helped the Indians win a #A state title playing for Coach Roxanne Paulson in 2008, the first and only time in history for Marion HS.  She played club volleyball for several different clubs as an outside hitter and later transitioned to a defensive specialist. 
Coaching Experience:  Leigha started coaching for Kari Lombardi at Cedar Rapids Washington High School in 2009.  During Leigha's four seasons at Washington, she coached at the freshmen, sophmore, and junior varsity level.  She coached ons season at both BallardHigh School and Norwalk High School when first in the Des Moines area, and is now in her third season as Head Freshman coach at Dowling Catholic.  Leigha has coached club for the past 10 years, at Washington High School, Rapid Spikers VBC and Central Iowa Select.  Leigha is assisted by her husband, Ben McQuade.
SINGLE CLASS ONE LESSON $60
SMALL GROUP ONE LESSON $30
SINGLE CLASS SIX LESSONS $300 ($50/Lesson)
SMALL GROUP SIX LESSONS $150 ($25/Lesson)