At Ignit, we divide lessons into Sports and Coach teaching.  Also we offer Individual and small group lessons.  We charge for individual lessons, or you can SAVE by purchasing a 6 pack of lessons.  If you wish to find your own coach and lessons, go HERE.  Otherwise, if you need help and want us to…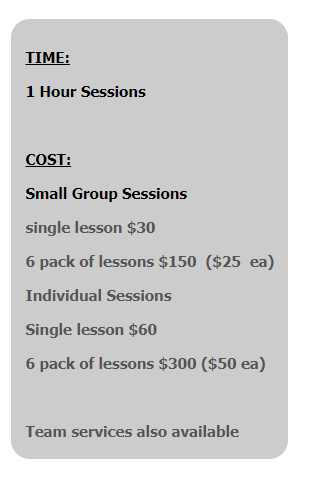 New to IGNIT Coaches Series?  Not sure who the best coach is for you?  Let us help!!
Just tell us what type of lesson you are looking for and we will match you with the coach(es) that best fit your needs.  Simply fill out the form and then purchase your first lesson or 6 pack, and we'll get you training in no time!!
SINGLE CLASS ONE LESSON $30
SMALL GROUP ONE LESSON $60
SINGLE CLASS SIX LESSONS $150 ($25/Lesson)
SMALL GROUP SIX LESSONS $300 ($50/Lesson)